FULVIO RISULEO: LOOK UP/GUARDA IN ALTO (2017) - OPEN ROADS: NEW ITALIAN CINEMA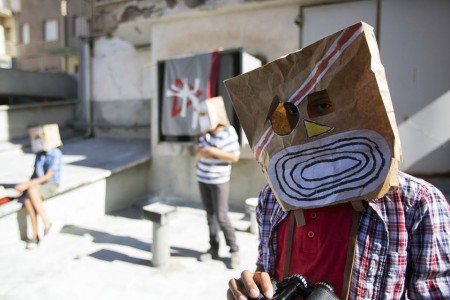 Long smoke
The director of this film, Fulvio Risuleo, is 27. He was previously known for the shorts
Lievito madre
(2014) and
Varicella
(2015); the latter won the Discovery Award at Cannes.
Look Up
, Risuleo's inventive feature film debut, uses a young man's impulsive "fugue" across the rooftops of Rome as an entrée into a randomly discovered parallel universe - a world of fantasy and the imagination. As Gerardo Coelo wrote on
Letterboxd
Look Up
is "truly enjoyable" and "plays like a children's adventure story for adults," and "is co incredibly inventive in the world it builds and the characters and situations that inhabit it, that the sheer joy of watching it, forgives any weaknesses (which it definitely has)." This is an inspired flight of Italian whimsy that shows us where Calvino came from.
The start of it all is a cigarette break on a rooftop in Rome taken by a young baker wih Elvis hair, Teco (the appealing Giacomo Ferrara), who climbs up with two coworkers, when they all spy several extraordinarily large white seagulls, one of which crashes on a neighboring roof. Teco vows to take the day off and climb over to find out. He then finds companionship, romance, adventure, delicious and magical food, and other surprises, including a new destiny.
First off, an unusually articulate little girl (Alida Baldari Calabria) makes friends with Teco and shows him Carlo, a rooster she's cradling in her arms that she says is her "husband." Part of the charm of the film is the genuine surprise and amusement Giacomo Ferrara shows as events unfold, such as this absurdity. Later on when he meets Stella (Aurélia Poirier), the shipwrecked French lady pilot who has parachuted to the roof, there is a sequence of joyous playfulness between the two that is uniquely natural. The girl introduces Teco to a gang of kids in masks, including one who is mute, who is building a rocket ship - a project we will return to for an explosive finale.
Later Teco and Stella are pursued by a gang of disapproving nuns. But some of the nuns turn up carousing when night falls, and they enter a subterranean party. I could have done without the longeurs of this party: it is probably one of the "weaknesses" Gerardo Coelo alludes to. But, even though it is only an interlude, one might not wish to miss Teco's meeting with Baobab, played by the iconic Leo Castel, who's worked with Marco Bellocchio, Raul Ruiz, and Phlilippe Garrel, among many, and provides a strange, magical encounter, the feel of a real hermetic being, part of another world.
There is a DIY aesthetic that is essential to the imaginative stimulation of this film, but tech details are not a disappointment. The inventive storyline and charming acting provide most of our gratification. But from the start one is charmed by the retro computer/house/dub music by Cameron Stallones aka Sun Araw, available on vinyl in a
double album
, no less. The way thirty-one-year-old dp Juri Fantigrossi can make Teco's and Stella's climbing around in rooftop tunnels luminous and beautiful is miraculous. This is a movie Michel Gondry would like to have made.
Look Up/Guarda in alto
, 90 mins., debuted at Rome, 29 Oct. 2017, also playing at Rotterdam, and was in Critics Week at Cannes 2018. Screened for this review as part of the Open Roads: New Italian Films series at Lincoln Center.
Showtimes, Walter Reade Theater:
June 3 - 8:30 PM
ALDA BALDARI CALABRIA AND GIACOMO FERRARA IN LOOK UP
SUN ARAU ALBUM FOR GUARDA IN ALTO