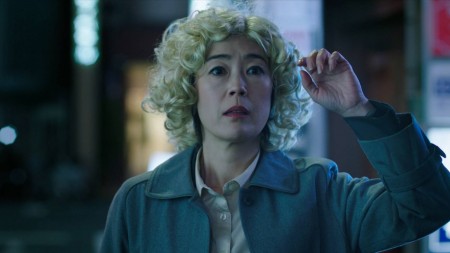 SHINOBU TERAJIMA IN ATSUKO HIRAYANAGI'S OH LUCY!
A lonely Tokyo office drone enters a wild adventure in California
Setsuko (Shinobu Terajima), a lonely woman living in Tokyo, decides to take an English class where she discovers her alter ego, Lucy. We see her at work, an "office lady" who witnesses a suicide in the subway station on the way to to the job, then the fake camaraderie of the coworkers, the false celebration of a retiring "office lady," much like herself, only older. Hirayanagi delineates this world with a few deft touches.
The English class, attended only once, is a tantalizing taste of the escape Setsuko needs, with Josh Hartnett's offbeat English teacher "John" working out of a "love hotel." John gives Setsuko the American language-learning name, "Lucy," and a curly blond wig, and teaches her to say "Hi!" and smile and utter broad vowel sounds and hug.
When Setsuko comes back, already liberated by the new personality John has bestowed upon her with the name "Lucy" and a curly blond wig, and, finding he has run off back to the States, she follows. So goes Hirayanagi's award-winning short film. This feature-length expansion rifs away from there.
Setsuko AKA Lucy has been sort of conned into attending the English class by her niece, Mika (Shioli Kutsuna). Lucy doesn't know John has fallen for Mika and, the day after Lucy's life-changing lesson, has run off to California with Mika (she glimpses them sliding into a taxi). Using a postcard Mika sends her for the address, Lucy decides to take some much accumulated vacation leave immediately and follow. Ayako (Kaho Minami), her sister, decides to go along after her sister, almost out of spite. Ayako and Lucy are adversaries. Lucy has never married because long ago Ayako stole her boyfriend - Mika's dad, who left. This quirky comedy has a grim sense of humor.
When the ladies find the address, there is John, owing two months' rent at the motel, but Mika has left him. John's a bit of a loser, but, being Josh, an amiable and attractive one. Lucy remains smitten, to her grief. As Setsuko/Lucy, Shinobu Terajima is a richly varied actress with a complex face that can go from droopy to elegant, hopeless to delighted, youthful to burnt-out in the blink of an eye.
The movie's best idea is the droll one of how, in an exaggeration of elementary language lessons everywhere, learning American English can also be learning how to sound and act American. Which means Hi's and broad A's and hugs and smiles, and loosening up - everything Japanese culture is not, a release from its confinements, or the fantasy of it. We can readily believe a couple of frustrated, angry Japanese ladies - and that's another of the movie's
coups
, making this unrecognized population be the centers of attention for once - would want to run off, and imitate the surfer dude, his persona by nature a schtick, in search of escape, revenge, who knows what? "To learn a language is to live anew," goes a supposed French saying Anglos hear, which, like "Lingua toscana in bocca romana" (Tuscan tongue in Roman mouth) is a language saying students repeat that native speakers of both languages seem unfamiliar with. The idea holds, though: learning a language is pursuing a dream of a dream.
Hirayanagi's story is prime cinematic material: improvisation, image, identity, raw emotion. All the dialogue is a garbled mashup, approximations as John, Lucy, and Ayako chatter in Japlish and surf motels, diners, and coastal highways that clash delightfully, or perhaps grimly, with Tokyo's graygreen urban clutter.
This is a little film whose charm has sad and bitter edges, blending Japanese wage-slave darkness and the urge to escape with the goofiness of sending feisty Japanese ladies on a road trip with a handsome American loser. Needless to say, a young man teaching English in a love hotel is winging it, and his circumstances may not bear looking into.
Oh Lucy!
is a road movie, a search, an adventure, and a wrong turn. It stays very much in the moment in every scene. It's a movie Jim Jarmusch might have liked to make, had he sent two middle-aged Japanese ladies to San Diego. Do not despair: the world is free for those who wing it. But do not rejoice: suicide is popular in Japan.
Will Ferrell is one of the producers.
Oh LUcy!
, 95 mins.,expanded from the director's short shown at Cannes in 2014 that was the winner of numerous awards and nominations, the feature debuted in Cannes Critics Week 22 May 2017. It opens in NYC starting Thurs., 1 Mar. 2018 (City Cinemas Village East Cinema, Landmark at 57 West), and opens 16 Mar. in Northern California.